Wilrijk, 25 February 2021 – In order of ISVAG, the intermunicipal cooperation responsible for the processing of the household residual waste of 1 million citizens, SkyeBase recently carried out an extensive inspection of the flue gas duct and the heating network of Isvag. For this purpose, a  drone has been used for the first time. In the past inspections of flue gas ducts on cracks and dust accumulations were carried out by humans or robots. This did not always turn out to be efficient. In the past checks of the heating network were often carried out by resistance measurements, ground crews or helicopters which could be inaccurate and expensive. Thanks to the use of drones, inspections can be carried out faster, better, safer, more accurately and more cost efficient.
Flue gas duct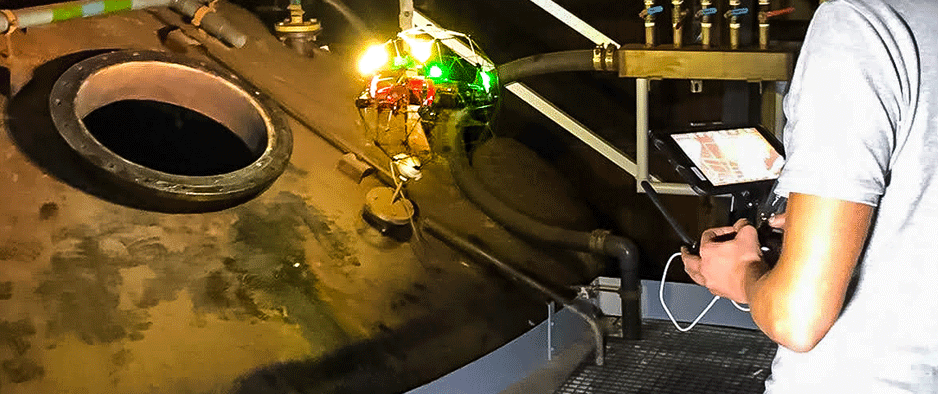 An indoor drone was used for the visual inspection of the flue gas duct. This drone is equipped with a special cage construction so that the propellers cannot be damaged or break when touching the walls. In addition to the inspection of horizontal parts, vertical parts that are not accessible to humans and robots can also be reached. Parts of the flue gas duct are visualized by a 3D model, which allow to check virtually the complete inspection afterwards. Anomalies are indicated in this model, so that ISVAG knows exactly which locations needs extra attention.
Heating network
The heating network, rolled out by ISVAG, was inspected with an outdoor drone, equipped with a thermal camera. This camera is able to detect leaks by visualizing temperature differences and maps precisely the exact location of the heating network. In this way heating networks can be quickly checked on leaks at  long distances, so that water waste can be avoided by a possible leakage.
"Inspections with drones and intelligent data processing via asset inspection platforms will be carried out more and more in the future. By using drones, the customer not only saves costs, but also gets a faster and better inspection. Moreover, the inspection is safer and the uptime is increased", says Bart Daniels, COO at SkyeBase.
"It is crucial that all parts of our ISVAG installation are in top condition at any time. A thorough inspection should help us to carry out an efficient and thorough preventive maintenance programme and, where necessary, to adjust it. Thanks to SkyeBase's expertise, we now have quickly and accurately all the information we need for this",  adds Olivier Opsomer, Plant Manager at ISVAG.
About ISVAG
The Flemish are worlds waste sorting champions. We are evolving towards a circular economy, but despite all our efforts, there is still a lot of non-recyclable household waste left. Thirty cities and municipalities are working together in ISVAG to convert this non-recyclable residual waste from their more than 1 million inhabitants into as much energy and raw materials as possible in a safe, responsible and environmentally friendly way. For example, we are already generating power for more than 25,000 families today and since April 2020 we are also supplying heat to companies. Soon we will start building a brand new waste power plant, which will produce even more energy, which will improve the air quality in the region.  (www.isvag.be)
About SkyeBase
SkyeBase is the total inspection service provider & inspection platform developer that helps asset owners and maintenance managers to deploy and carry out 100% uptime inspections with drones and sensors to manage their critical assets. This with the aim of reducing costs and working more efficiently, ecologically and safely with maximum use of smart software supported by AI to obtain actionable data analytics. (www.skyebase.be)